12 Pisco Cocktails You'll Want to Try!
You've probably heard of the ubiquitous Peruvian cocktail the pisco sour, but have you tried any other pisco cocktails? This collection of 12 Pisco Cocktails features cocktails from the "less common" pisco cocktails like my El Capitán to some truly unique pisco sour variants. If you're a fan of Peruvian pisco, you'll want to scroll all the way to the bottom, and not miss a single recipe!
God created heaven and earth. But after such hard work, he became thirsty. So he did not come up with anything better than to invent the grape and from this fruit, make a fine brandy. He called that divine and heavenly elixir pisco. He took a sip and saw that the pisco was good. From there, happily, he kept having fun, creating animals, plants and the rest of the world.

When in Peru it is proclaimed that "God is Peruvian", it is not a joke. And when it is stated that pisco is Peruvian, it is an undeniable and irrefutable fact, supported by historical evidence that confirms it. Today pisco is the flagship drink of Peru that wins more fans every day.

~~ Museo del Pisco
👩🏻‍🍳 Tamara Talks – About Pisco
If you've followed Beyond Mere Sustenance for awhile, you know Peru and Peruvian food are near and dear to my heart. To be perfectly honest, enjoying Pisco has been a journey for me. I'm a whiskey/bourbon girl, and Pisco was a developed taste.
At the risk of repeating myself, my husband Mark is Dean of the Honors College at the University of Texas Rio Grande Valley. He is a PhD biologist, and his Associate Dean is a PhD art historian, and we take Honors students to Peru for Studies Abroad. We spend about a month in northern hemisphere summer, and instruction includes ecosystems of the Peruvian Andes, and pre-Inca, Incan, and Colonial art history and archaeology.
Pisco is ubiquitous in Peru. In fact, unless you're in the big cities (Cuzco and Lima), it is hard to find any other spirits. I have grown fond of pisco sours, but I really can't exclusively do pisco sours for that long. Chilcanos – pisco and ginger ale – are widely available, and I do enjoy them. In fact, the chilcano de maracuya (passion fruit) is my version of the chilcano.
In 2022, Mark and I did a pisco tasting at the Museo del Pisco in Cuzco. This experience changed my perspective. I learned the different styles of Pisco – Pisco Puro, Pisco Aromático, Mosto Verde Pisco, and Pisco Acholado. Each has its own nuances and flavors, but my favorite was the 4 Fundos Pisco Italia that you can see in the photo above!
I cannot begin to cover what I've learned about Peruvian Pisco in a single blog post. I would not do it justice. If you're interested in learning more, Types of Pisco from PiscoLogía is a great article.
❓ FAQ
What is Pisco?
Pisco is a type of brandy, meaning it's a spirit distilled from wine or fermented fruit juice. Not to be confused with aged cognac (which is distilled in oak), Pisco cannot be distilled/aged in oak. The pristine quality of the Pisco is driven by the variety or varieties of grapes it is made from. The Pisco can only be distilled once, must be distilled from wine, and it must be distilled to proof (no water can be added). It must be made in Peru in one of 5 coastal valleys – Ica, Lima, Arequipa, Moquegua and Tacna. Chilean "pisco" is not Pisco IMHO (though they would dispute this claim!).
What Pisco is best for cocktails?
As with all cocktails, you don't necessarily need a "top shelf" spirit for mixing in cocktails. At the same time, avoid the "bottom shelf" brands. In the US, you may not have a variety to choose from.
Pisco Portón by Caravedo
is probably the most common, and more than adequate for making pisco cocktails.
🍸 Pisco Cocktails
I have included 12 pisco cocktails as of February 2023, but I will add to it as I discover them or create them. Many of these are my own, but I have included a few from other bloggers. I'm looking forward to trying them!
El Capitán – A Pisco Manhattan 🍸 Beyond Mere Sustenance
Think Manhattan with a twist? The El Capitán Cocktail is Peru's version of a pisco Manhattan. Pisco, of course, is the star ingredient. This sophisticated sipper splits the vermouth between sweet and dry "perfect" style, and gets finished with a generous amount of the traditional angostura bitters and an optional orange and cherry garnish!
Get the Recipe!
Chilcano de Maracuya 🍸 Beyond Mere Sustenance
Cool, light, and refreshing… Chilcano de Maracuya features Peru's beloved pisco, fragrant maracuya (aka passionfruit or passion fruit), ginger ale, and a few drops of bitters. This one is perfect on a hot summer's day!
Get the Recipe!
Lavender Lemon Pisco Sour Cocktail 🍸 Homebody Eats
If you enjoy egg white cocktails, this is a unique, flavorful twist on the classic Peruvian pisco sour cocktail with lavender and lemon.
Get the Recipe!
Blood Orange Pisco Sour 🍸 Beyond Mere Sustenance
The gorgeous red flesh and the distinct raspberry-citrus flavor of the blood orange combined with pisco and egg white produces one beautiful and delicious cocktail! Finish with a shake or two of orange bitters, and a slice or a twist of blood orange. Qué rico!
Get the Recipe!
Pisco Smash Cocktail 🍸 Gastronom Blog
This drink was inspired by a cocktail we had on a trip out to California last summer where we had this fantastic drink made with fresh blackberries and pisco. We had stopped for lunch at a spot in San Fransisco where this drink was the bartender's creation which he called the Market Smash. Full of fresh berries and fruit from the valley, the drink really felt like California in a glass.
Get the Recipe!
Plum Pisco Sour 🍸 Beyond Mere Sustenance
A delightful variant on the ubiquitous pisco sour, this Plum Pisco Sour combines Peruvian pisco with spiced plum syrup, fresh lime juice, egg white, and a dash of orange bitters in a light and exotic unique cocktail. Once you've got that gorgeous plum syrup made, this pisco cocktail comes together in minutes!
Get the Recipe!
Maracuya Sour 🍸 The FoodOlic Recipes
Maracuya Sour is a Pisco Sour without lime but passion fruit instead. It contains Pisco, passion fruit, egg white, simple syrup and a drop of Angostura bitters.
Get the Recipe!
Chicha Morada and Pisco Cocktail 🍸 Beyond Mere Sustenance
Chicha morada – the traditional Peruvian spiced purple corn drink – is combined with Peruvian pisco and dry vermouth in a truly unique and beautiful pisco cocktail!
Get the Recipe!
Hibiscus Pisco Sour 🍸 Emily Fabulous
This Hibiscus Pisco Sour is a floral twist on the classic cocktail. This drink is made with pisco, freshly squeezed lime juice, homemade hibiscus syrup, and egg white to create a stunning cocktail perfect for a party, happy hour, or special occasion.
Get the Recipe!
Peruvian Sangria with Pisco 🍸 Beyond Mere Sustenance
This Peruvian Sangria, is a twist on the traditional sangria recipe that replaces brandy or rum with Peruvian pisco, and red wine with chicha morada (purple corn drink). This Peruvian-inspired drink recipe has a hint of spice and fruit that is delightful!
Get the Recipe!
The Princess Brandy: The Cranberry Pisco Sour 🍸 Bon Appeteach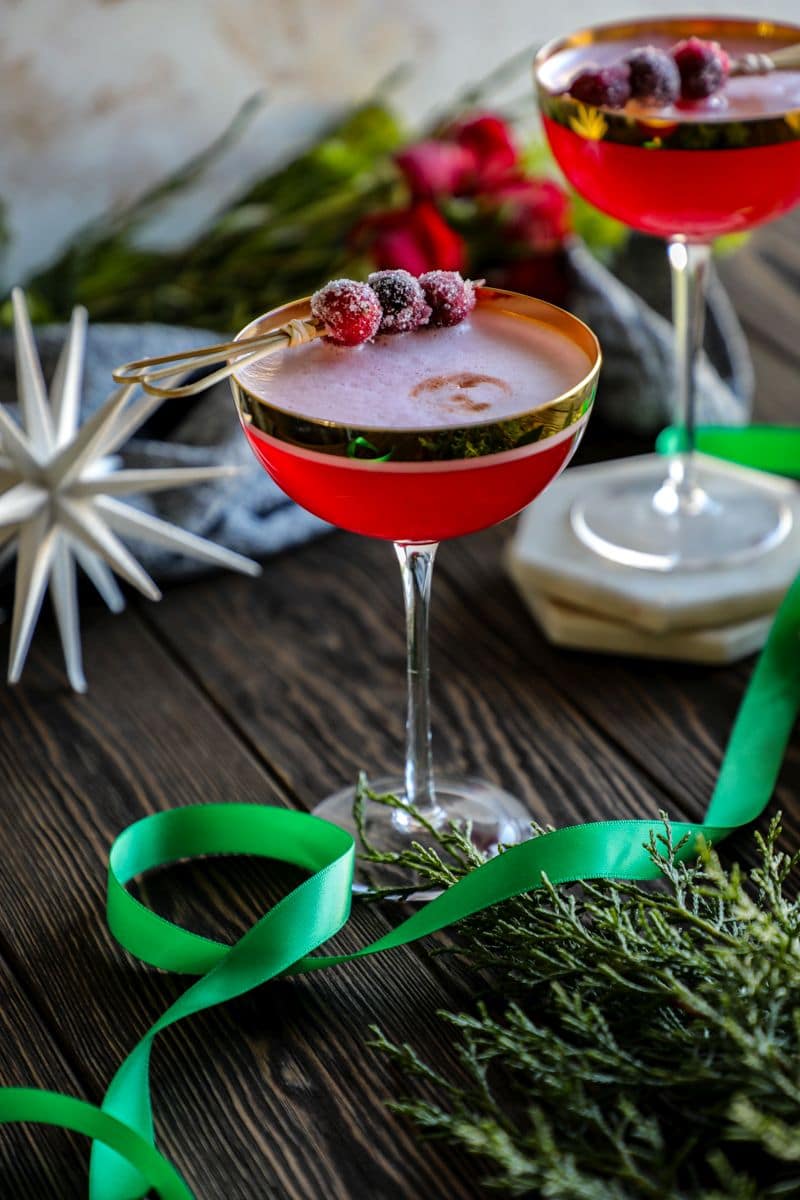 A holiday friendly cocktail featuring pisco, fresh cranberry juice and syrup, topped with a classic egg white foam.
Get the Recipe!
Pisco Lemonade with Lemongrass and Mint
A super summer sipper (I love the alliteration 😀 ), Pisco Lemonade with Lemongrass and Mint requires a couple of fresh ingredients, a bottle of pisco, and a few minutes of "active" time… It's a perfect summer sipper!
Get the Recipe!
💭 Closing Thoughts
My Pisco education is not complete; I continue to learn about this unique Peruvian spirit. My husband's colleague and our friend Dr. Robert Bradley is in the process of seeking funding for research and eventually a book about Peruvian Pisco. While our 2023 summer trip to Peru is in doubt (due to political unrest), we know we will return. I hope this blog post has at least piqued your interest! Cheers!