This post may contain affiliate links, see my Privacy Policy and Disclosure Statement
Using farm fresh ingredients and your favorite spirits, these Fresh Late Summer Cocktails aren't just for "cocktail hour!" "Mixology" - the art of mixing drinks - is catching on all over the globe, bringing us more complex cocktails using fresh, seasonal ingredients. This collection of cocktails feature the season's best ingredients and includes gin, vodka, rum, tequila, and whiskey. I've even included ideas for pairing with food!
Jump to:
👩🏻‍🍳 Tamara Talks - About Pairing Cocktails and Food
Summer has come and gone in the northern hemisphere, and autumn colors have begun to decorate landscapes in much of the U.S., yet south Texas is still hitting the century mark. 😯 The Rio Grande Valley is a major agricultural area, and farmers' markets, local groceries, and my herb garden are still going strong. Fresh herbs, chiles, cucumbers, mangoes, figs, and blackberries are plentiful, inexpensive, and local.
Of course I incorporate fresh ingredients into my menus regularly, but I have only recently begun playing with cocktails. My very first cocktail recipe was this Tropical Margarita.
I think when I mention "cocktails," most people think of "cocktail hour" - perhaps a drink with hors d'oeuvres before a formal dinner... reserved for an event or party? I spend a fair amount of time following food trends (one of the hazards of being a food blogger 😄 ), and lately, cocktails and food pairings have become very popular in the culinary world.
Trendy restaurants are hiring mixologists to create cocktails that pair with their menu items using house made syrups and flavorings, and farm fresh seasonal ingredients. This is a trend I'm quite happy to jump on! For more information see A Guide To Pairing Food and Cocktails. In considering a cocktail, keep in mind that you want the cocktail to complement the dish/meal rather than match it...
If you follow my blog, you may have noticed my recipes tend toward bold, spicy flavor profiles. Many of my recipes don't pair well with wine (i.e. Tropical Black Beans and Rice and tacos) Even if the menu works well with wine, sometimes you just want to change it up a bit. I asked some of my food blogger friends for their best farm fresh cocktails recipes, and was so excited (and a bit overwhelmed) by 135 submissions!
I narrowed this list to reflect the gorgeous produce currently available in the Rio Grande Valley. With a little bit of encouragement, this may become a regular feature on my blog. 😉 Need a summer cocktail? Check out 8 Low Calorie Summer Cocktails You Must Try (#3 is Amazing!) from Positive Health Wellness.
🍸 Gin Cocktails
Gin was the first spirit that I loved. Back in my barely legal college days, I drank dirty martinis. There's so much more to explore if you love gin.
Fig Bees Knees | The Girl in the Little Red Kitchen
This pretty pink hued cocktail is an update on the Bees Knees with fresh figs.
Check out this recipe
There's still time to enjoy fresh figs! This elegant cocktail pairs gorgeous fresh figs with gin, honey, and lemon in an updated and sophisticated twist on a classic cocktail. I LOVE figs in savory dishes like my Bleu Cheese, Fig, and Crispy Prosciutto Flatbread and my Fresh Fig and Soppressata Pizza. Try pairing this late summer/early autumn cocktail with bold cheeses and salty Italian meats. Sounds like a perfect evening on the patio with a gentle ocean breeze and great company. 🙂
Gardener Cocktail | This Is How I Cook
A gardener cocktail is made with cilantro, jalapeno and ginger. Add some lime juice and gin. Just what you need after a day in the garden!
Check out this recipe
Cilantro, jalapeño, and lime are fresh and available year 'round in McAllen. The fresh ginger adds an unexpected twist to this spicy and refreshing cocktail! These flavors would pair well with just about any spicy Asian, Mexican, or Southwest dish. I would pair this with my Fried Oyster Tacos With Citrus Salsa, or your favorite tacos recipe! A little Mexican sizzle in your drink is sure to make your tacos taste even better!
Savory Gin Cocktail | Beyond Mere Sustenance
With its intense red hue and savory flavor, my Savory Gin Cocktail with Cynar and Beet Juice may redefine cocktail hour!
A few simple ingredients - gin, Cynar, beet juice, bitters - in a cocktail shaker... This tasty cocktail is perfect when "sweet" just isn't appealing, and it's ready in 5 minutes (or less)! Try it with a hearty lima beans and grains salad.
Cucumber Basil Martini | Beyond Mere Sustenance
Cucumber Basil Martini with Lemon beautifully balances a lemon and cucumber simple syrup with gin and muddled fresh basil leaves.
Check out this recipe
With the fresh basil and lemon, this gin martini variant is a perfect late summer cocktail. It's refreshing, light, and very fresh. You're sure to love it on a hot summer's day with this filling grilled veggies and white bean salad!
🥃 Vodka Cocktails
Rosemary Blackberry Limonata Cocktail | The Little Epicurean
This refreshing Rosemary Blackberry Limonata combines berries and lemon with vodka to create a fantastic beverage that is easy to make and share!
Check out this recipe
Maryanne from The Little Epicurean... "My cocktail flavors are determined by what I find at the farmers' market (and in my garden). Rosemary is so easy to grow, and blackberries are abundant (and cheap) in south Texas. This fresh, fruity, herby cocktail includes a rosemary and blackberry infused simple syrup, fresh blackberries and rosemary, and vodka, and gets topped off with a splash of limonata or lemon soda."
Imagine the pairing possibilities with this one 🙂 I would certainly enjoy this with my Pressure Cooker Lamb Provençal. Take your cue from the rosemary... Provençal flavors, an herb-rich risotto, chicken piccata...
Jalapeno Mint Moscow Mule | Tasting Page
If you're looking for new cocktail inspiration, try this spicy jalapeno mint moscow mule. It has a modern and vibrant punch, perfect for summer drinking.
Check out this recipe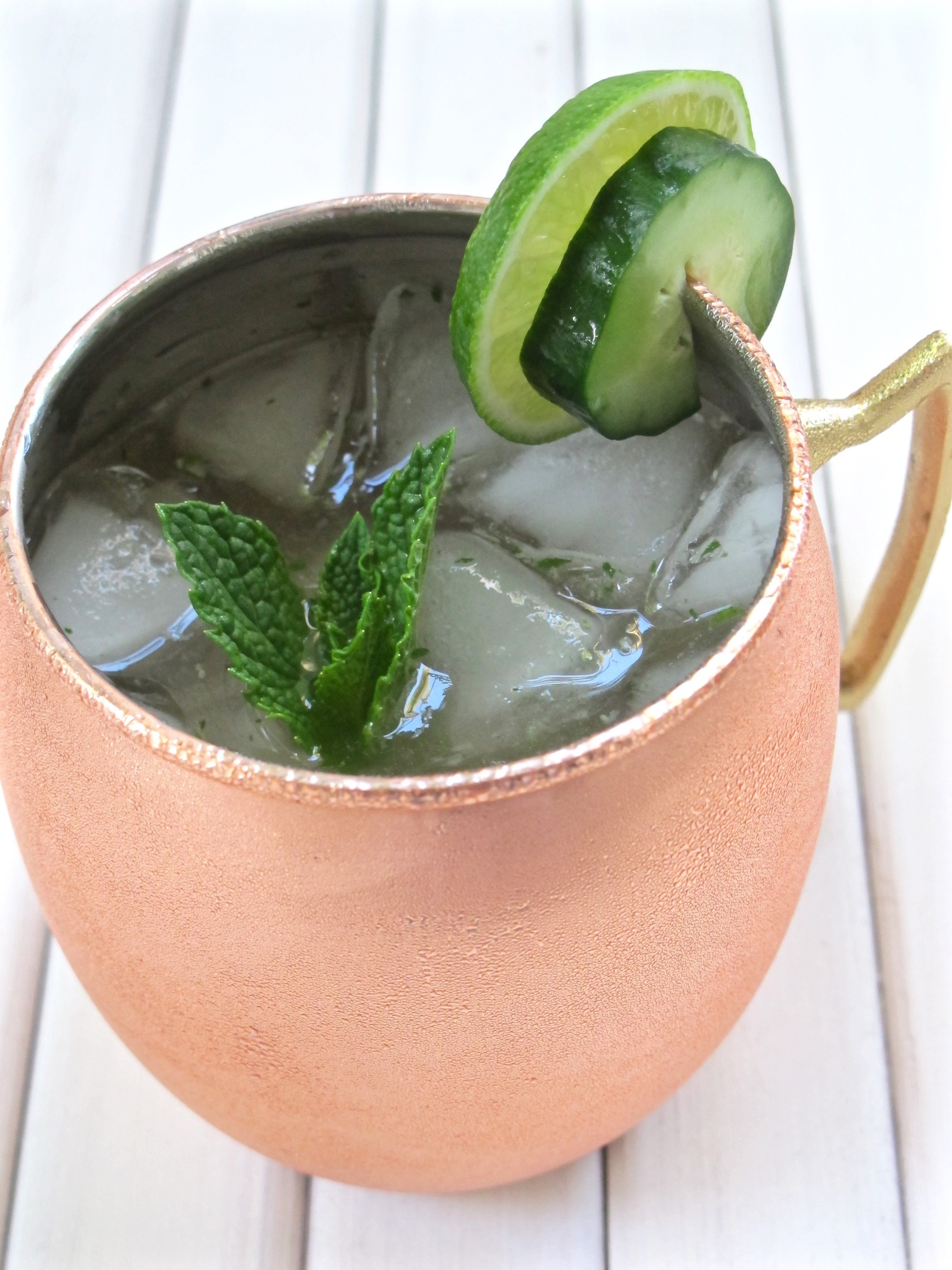 This beauty is no barnyard animal! You have to read Kelly's story (Tasting Page) about the history behind the "Moscow mule." I love the farm fresh flavors in this spicy rendition of a classic cocktail. Again, I think this makes a perfect beverage alongside any Mexican dish, but would also pair well with tropical flavors like my Tropical Black Beans and Rice.
Spicy Cucumber Cocktail
A refreshing cocktail recipe featuring the flavors of crisp cucumber, fragrant cilantro, tart lemon and fiery serrano pepper, made a little sweet with sugar and rallied with cilantro vodka. Cocktail time, my friends!
Check out this recipe
I love Mike and Patty's description of their cocktail! It's so fresh with all of the farm fresh ingredients! I'd love this one with barbacoa tacos or my Lengua Tacos With Salsa Verde and Caramelized Onions.
🍹 Tequila Cocktails
Fresh Fig Margarita | Karen's Kitchen Stories
When figs are in season, I've got to have them! They're available at our farmers market and local grocery for several weeks this time of year... into October.
Check out this recipe
There's nothing quite like a fresh fig. 🙂 They are fragile, and do not last long after ripening. If you're looking for a new way to use them, try this gorgeous cocktail - fresh ripe figs, St. Germain or Grand Marnier, silver tequila, and fresh lime juice. I know you'll love this one with a grilled pizza!
Spicy Mango Citrus Cocktail | Tasting Page
Freshen up your summer drink with this fresh fruit mango cocktail with orange, lime and mint. No refined sugar is added. The sweetness is all from fresh fruit.
Check out this recipe
Mango, orange, lime, and mint with tequila (or sparkling water for a non-alcoholic version) certainly takes advantage of the bounty of fresh produce available at this time of year. Naturally sweetened - with no added sugar - this refreshing drink will tickle your taste buds with fish tacos or my Mexican Fish In Parchment
Savory Salsa Margarita | Beyond Mere Sustenance
Farm fresh red bell pepper and jalapeño juice muddled with fresh cilantro then added to añejo tequila, fresh squeezed lime, agave nectar, and sea salt in a fabulously fresh cocktail with savory, sweet, heat, and acidity.

"Perfectly balanced" describes this savory margarita... Try it with a savory brunch dish like chilaquiles or shakshuka.
🍹 Rum Cocktails
Lemongrass Kaffir Lime and Ginger Mojito | Delicious Every Day
This Ginger Mojito is an update to the classic. Ginger adds a kick while the lemongrass and kaffir lime add a lovely fragrant floral element.
Check out this recipe
The title of this gorgeous cocktail just speaks to me of Thai cuisine. The not-too-sweet flavors echo the flavors in my Thai Curried Snapper In Banana Leaves, and the bubbles keep it nice and light. Delicious Everyday's Thai Pumpkin Rice Burgers is a vegetarian option that would be perfect with it, and pumpkins are in season!
Cucumber Mojito Recipe | CiaoFlorentina
A refreshing cucumber mojito recipe cocktail with a nice kick from green chile pepper, limes and mint served over ice !
Check out this recipe
Florentina was inspired by a trip to Cabo for this one... Cucumber is puréed in a food processor with mint leaves, green chiles, and lime, then strained and sweetened with agave nectar. White rum and sparkling water finish it off! Pair this with just about anything south-of-the-border.
Tall Mango Jalapeno Fizzy Cocktail | My Food Story
Tall Mango Jalapeno Fizzy Cocktail is a fun and refreshing brunch drink which combines the sweetness of mangoes with a spicy kick from Jalapenos.
Check out this recipe
Jalapeño slices are steeped in white rum for at least an hour before making this fruity cocktail with a kick... The chile infused rum is then combined with mango juice, simple syrup, and sparkling water. I'd probably skip the simple syrup and let the mango juice shine. This is another one that will pair well with spicy Mexican, Caribbean, and Southeast Asian dishes.
🥃 Bourbon/Whiskey Cocktails
Black-beery Whiskey Smash | Domesticate ME
This refreshing blackberry-infused whiskey smash is proof that adding beer to your bourbon is actually a surprisingly good idea.
Check out this recipe
You've got to go to the website, and watch the video on this one! I love it! 😆 This very creative cocktail would, of course, be great on its own. Blackberries, mint, sugar, and lemon juice get muddled together, and combined with whiskey and wheat beer. Mmmm! I would love this with an herb-y pork tenderloin roasted with fruit and potatoes. I'm not sure I can wait until Friday to try this one!
Bourbon Smash Cocktail
The Bourbon Smash wins, hands down, for the easiest bourbon cocktail. With only 4 ingredients and infinite variations, this simple drink recipe is a refreshing balance of sweet and tart - with just a hint of spiciness.
Check out this recipe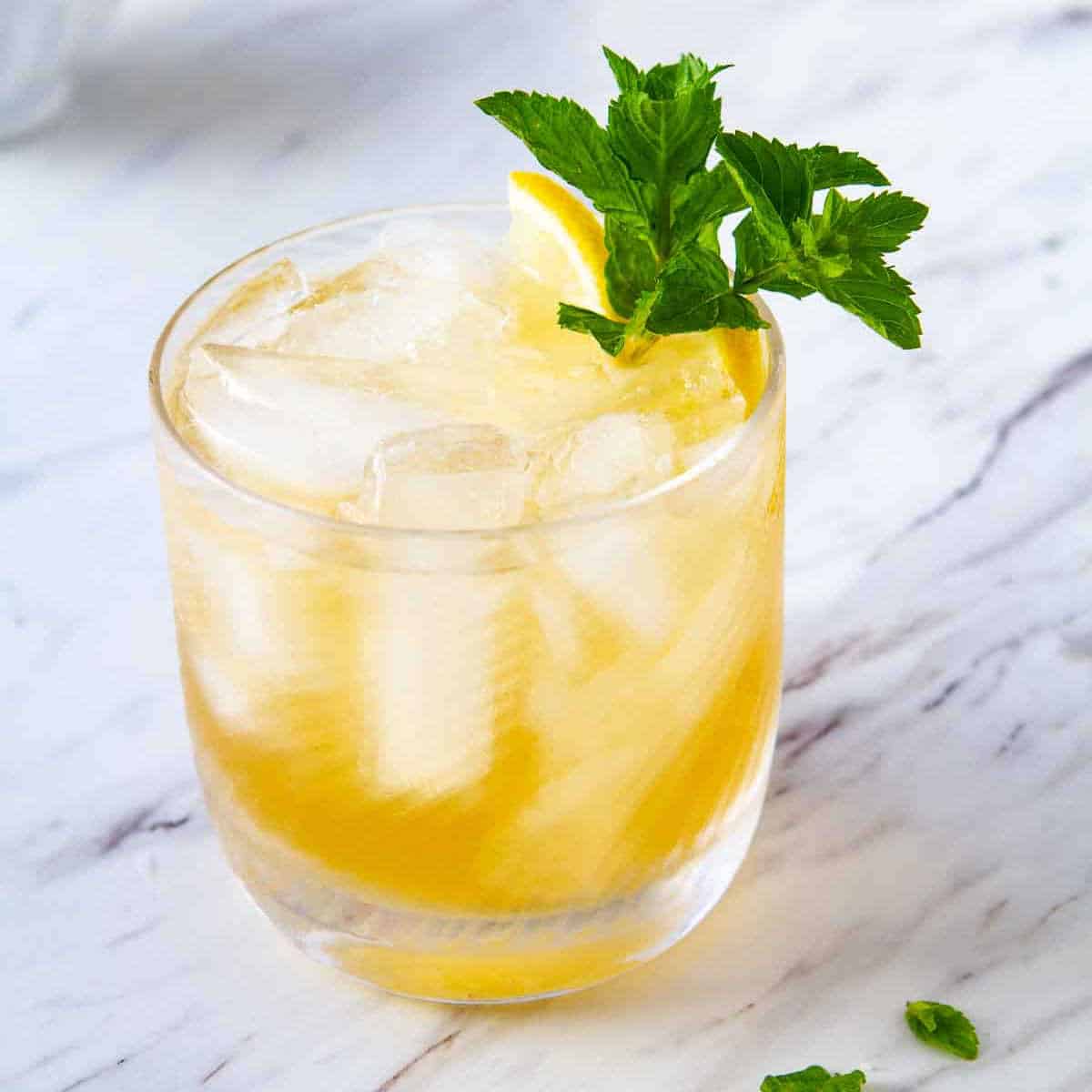 This drink is made for backyard BBQs, afternoons by the pool or to celebrate the end of a long week. The best part though is it takes full advantage of juicy and ripe summer fruit - meaning you can have a different version every time! Use your favorite summer fruit. Try pairing with citrus marinated pork chops for a late summer treat!
I would love to hear your thoughts! Do one or two (or more) of these cocktails tickle your fancy? They certainly do mine!